Meet Dr. Claudia B. Cortadi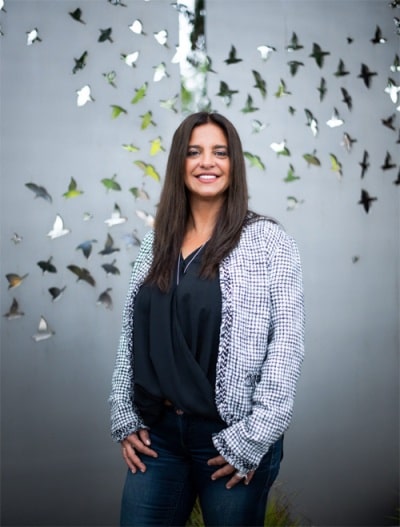 Dentistry for me extends far beyond treating teeth – it involves me working and communicating with people and helping improve their lives. I have followed this 'holistic' philosophy since graduating from The National University in my hometown of Cordoba, Argentina, in 1991.
After graduating dental school, I quickly realized the boundaries that existed between doctors and patients and how it was detrimental to promoting health, and this is why I took the right steps to remove any barriers in communication and focused my efforts on building strong client-based relationships. At Ablantis Dental, we believe the most important reason for being in practice is the opportunity to make a positive difference in the lives of those we touch. For us, there are no such things as boundaries.
Dentistry and people are my passion! There are few things that I enjoy more than watching my patients leave the office with brighter and healthier smiles. That's why I am so grateful for my educational background and my ability to effectively teach, guide and encourage my patients. I was born with a gift of being a doctor and it's an incredible feeling knowing I am helping scores of people improve their overall dental health and lifestyles.
While I am an active dentist in Encinitas and run a very successful Dental practice, I am also a staunch supporter of community outreach. I care deeply about the community I live and work in and this is why I have been an active supporter of non-profit initiatives that include: Christopher's Foundation: Connecting to Cure Juvenile Diabetes; and the Belly Up Concert. I was also recently selected to attend the Women's Dental Meeting in Charlotte, North Carolina at the new Dentsply Sirona Academy.
Gabriela
Treatment Coordinator
Gabriela is a Southern California native, and has been in the dental field for 27 years. She enjoys working with people and all aspects of dentistry. She really enjoys spending time at the soccer field, and has 22 years playing in a woman's league! She also has two grown daughters and loves spending time with her fiancé and her dog "Kobe."
Jessica
Registered Dental Assistant
Jessica is a young vibrant 23-year-old, born and raised in San Diego. She has been working as our lovely receptionist for the last three years. Jessica is also currently attending Southwestern college, where she hopes to advance her knowledge about the art of photography. She's a creative being at heart, who loves all types of photography and taking day trips to Disneyland. When she's not out exploring the world, she enjoys sitting at home watching nature shows.
MJ
Registered Dental Hygienist
MJ graduated with an Associate's Degree in Dental Hygiene in 2016 and brings to the office a fresh attitude and a passion for providing oral health care and education. After a decade and a half working with the department of defense and meeting many personalities, she understands the importance of good communication and is able to relate very well to her patients. MJ prides herself in staying current with the latest research in preventative oral health care. Her professionalism and commitment are noticeably reflected in her positive attitude and delivery of care. MJ is bilingual in both English and Tagalog and enjoys traveling, strength training, cycling, cooking, and spending time with her family, and friends. Her favorite part of dental hygiene is interacting with her wonderful patients and guiding their improvements.